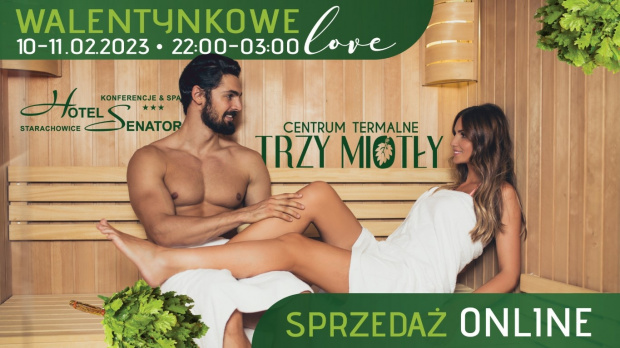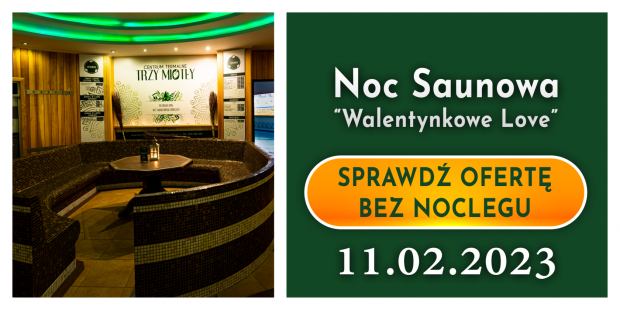 Bez względu na wiek czy długość związku randki sprawiają, że partnerzy czują się kochani, akceptowani i ważni. Na co dzień często o tym zapominamy, ale Walentynki to świetna okazja do rozpalenia iskry na nowo. Wykorzystaj tą chwilę! Zaplanuj gorącą noc w Trzech Miotłach!
Zapraszamy na gorącą "randkę", która obejmuje:
6 seansów w saunie fińskiej/łaźni parowej
szwedzki bufet przygotowany przez Szefa Kuchni Hotelu Senator
możliwość korzystania z dwóch saun suchych, łaźni parowej, groty solnej i wypoczywali z tężnią solankową.
Liczba miejsc ograniczona.
Startujemy o 22:00
ZAPEWNIAMY:
zdrowe, lekkostrawne i lokalne menu.
kosmetyki do zaplanowanych rytuałów w saunie.
prześcieradła do sauny oraz ręczniki.
Popularyzujemy poprawne saunowanie. W trakcie imprezy strefa nietekstylna obowiązywać będzie również na terenie basenu.
Oferta obejmuje:
nocleg ze śniadaniem
bilet na Imprezę Walentynkowe LOVE 11.02.2023
możliwość skorzystania z Centrum Termalnego "Trzy Miotły" w godzinach otwarcia niezależnie od eventu
Planowe zaparkowanie świętokrzyskich mioteł około 3:00
Pamiętaj Świętokrzyskie CZARUJE. Daj się przenieść w świat magii. Będzie to świat relaksu, odpoczynku i mile spędzonego czasu. Jesteśmy liderami w organizowaniu nocy saunowych w regionie, zatem do zobaczenia!
W razie pytań zapraszamy do kontaktu z naszymi Świętokrzyskimi Szeptuchami - z przyjemnością poświęcą Wam czas:
Katarzyna tel. 509 510 497
Trzy Miotły tel. 505 456 335
mail: sauny@trzymiotly.pl